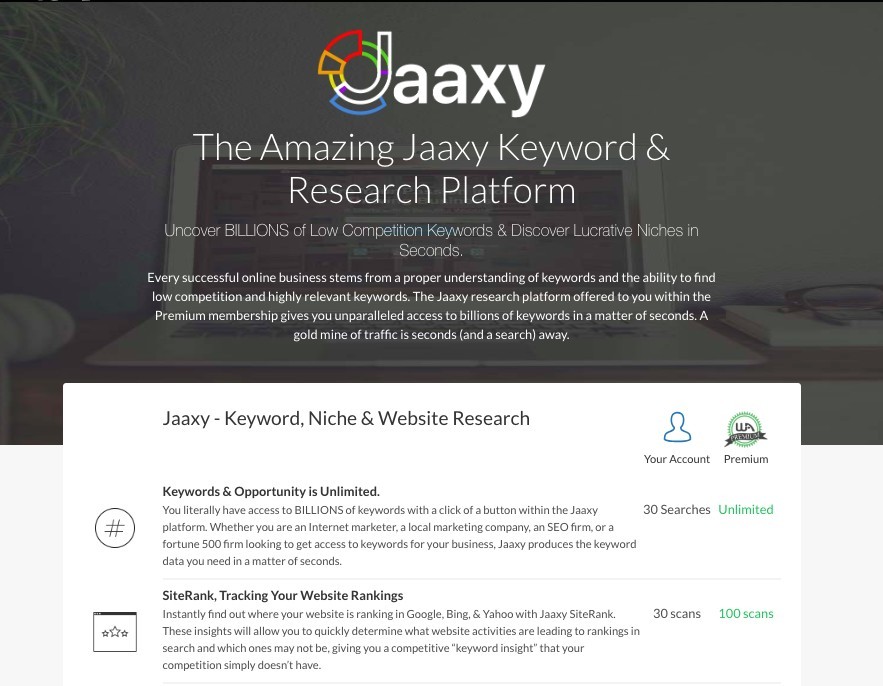 Wealthy Affiliate provides Jaaxy, the most advanced and effective keyword and research tool to all members, in order to help their websites ranked higher on Google. 
Higher rankings on Google bring higher volume of targeted visitors to your website. And ultimately, increase your conversions! In this section, I will review some featured tools that can help you improve your website content to ultimately improve your Google rankings.

Jaaxy – The Powerful Keyword Research Tool
Details And Powerful Competitive Index For Each Keyword Search 
Jaaxy is an industry leading keyword analyzer and research tool that was developed by affiliate marketers. Thus unlike other keyword research tools in the market, Jaaxy is specifically designed for affiliate marketers to find keywords and niche ideas that can rank and convert.
With real time data support, it offers accurate real time keyword competition, site ranking, traffic status, domain name suggestions and much more insightful data that every affiliate marketer thirsts for.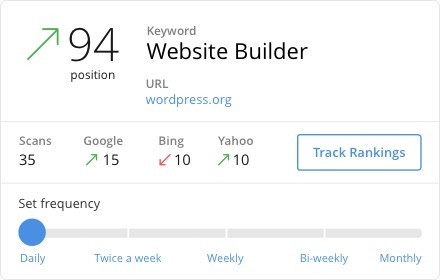 Jaaxy covers 99.7% of all search engines results, including top 3 global search engines – Google, Yahoo and Bing. So, it's far ahead in the game compared to Google Keyword Planner, which only covers Google.
A Big Step From Wealthy Affiliate – Jaaxy Is Available For All Members
---
 Since December 12, 2017, Jaaxy is Now the Official Keyword Tool of Wealthy Affiliate – for both Free Starter and Premium members.
This means Wealthy Affiliate members can now access Jaaxy directly. 
Members will get a unique Lite version which provides value somewhere between the Jaaxy Free Starter and Jaaxy Pro.

Details and Powerful Competitive Index for Each Keyword Search and More. Now all members can easily find the useful information to evaluate keyword value provided by Jaaxy, such as
Monthly keyword searches 

Keyword Quality Indicator 

An overall SEO score

Potential number of visitors if you can rank on the first page 

Number of competitors ranked on Google, Yahoo, and Bing
I've included only the most prominent features in the list above. The full list is too long to feature on here.
Below is a screenshot of all available Jaaxy features for WA premium members: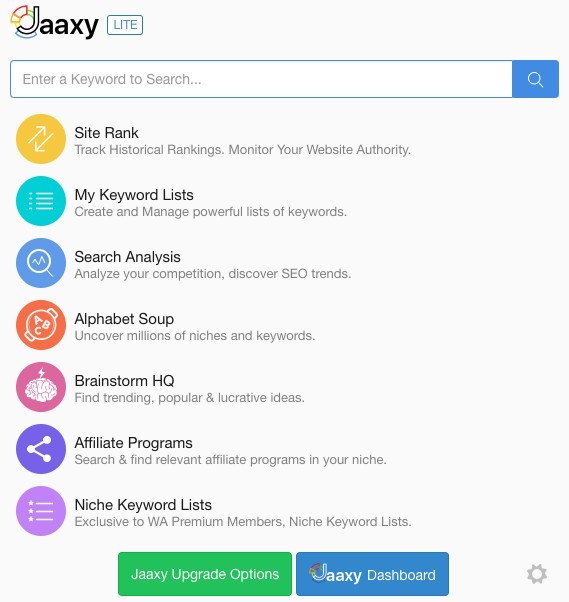 SiteRank – Your Website Live Keyword Rankings In Google, Yahoo & Bing
---
SiteRank checks and displays your website's rankings on Google, Yahoo and Bing in real time, and also provides you with up and down trends. It also allows you to compare your site to higher-ranking competitors to understand why they rank higher.
Now you know how to rank higher with a winning SEO strategy.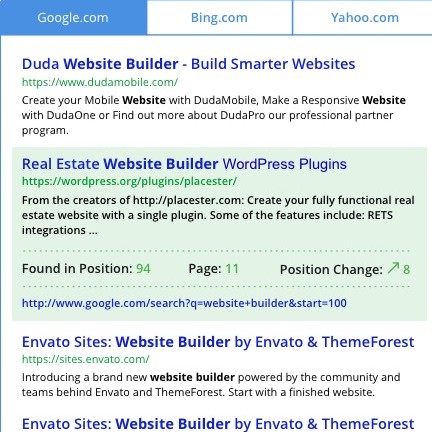 Cons – Nothing Is Perfect. Same Goes For Wealthy Affiliate
Only Support English
Jaaxy only supports English characters. So if you want to use characters in Chinese, Japanese, Korean, or any other non-English characters, you're out of luck. 
Another limitation is that there's no way to check the rankings for any specific country, as they only show a collective worldwide ranking. 
To solve these two issues, there are two possible solutions:
You can use the free Google Keyword Planner. But it will be limited to Google only. 

Another option is ahrefs, which is an advanced tool for marketers. It is a premium tool that comes at a premium cost, with the cheapest package at $99 (USD) per month. This might be too expensive and too advanced for beginners, or even some intermediate marketers. But for experts, it's a dream come true.
After the consideration of all the pros and cons, I rate Wealthy Affiliate Website Search Engine Optimization Tools a 4.25 out of 5.
Search Engine Optimization (SEO) is the only stable source of free traffic out there. The fate of your online business rests in the hands of search engines so great SEO tools are not just important but critical for your success. 
Wealthy Affiliate has done a fantastic job with SEO Optimization Tools, ranging from the Jaaxy Keyword Research to Alphabet Soup. On top of that, you get a complete ranking monitoring system called SiteRank so you can see what's working for your website and do more of that. 
Use these tools wisely and you'll start getting free and organic search traffic in no time.
We've covered so many amazing tools and resources WA offers. Cool tools and resources are not the only things that matter though. Warm support is just as important. Imagine what if you have any questions or need someone to give you a helping hand? Would you have to struggle all alone? 
There is a lot to be gained from the support of a real person. Not just for beginners, but also experienced entrepreneurs. No matter where you are in your journey, it is always great to have a human connection and a mutual support system. 
In Wealthy Affiliate, you get both, as they offer plenty of ways for you to connect with positive and helpful people from all over the world. You can learn more about it in the next post.