*No Teachable Discount Code or Coupon Code is needed, but the offer is going to be expired by the end of 2021.*
Start the year off right! Get the 2022 Business Essential Bundle ($1,500+ value) when you join Teachable before the end of 2021.
PLUS …
If you're one of the first 500 people to purchase a Teachable Plan through their year-end offer, you'll get the below extra 2 exclusive bonuses:
12 free months of a Beacons Pro plan

($120 value)

3 free months of a Community Starter plan (

$147 value

)
Teachable 2021 Year-End Offer Started already. What you can get at this end-of-year offer? What makes the 2022 Business Essential Bundle so attractive? What is the Join With My link Extra Bonus (value of $97) you can get from this website and How to claim them?
You are going to discover all these answers in a minute.

Table Of Content
(Please note this post contains affiliate links, which means I'll earn a small commission if you purchase through my link at no extra cost to you. Please see full privacy policy here.)
---
What is Teachable?
Teachable – The Course Creation Platform that you have full control of, deliveries and branding, at a low cost.
Course creators love Teachable because it is easy to create and manage their online course or coaching business in tits powerful yet simple all-in-one platform.
Teachable has helped 100,000+ creators collectively earn over $1 billion on their platform to date. They hook you up with intuitive features like payment processing, a sales page builder, course design templates, and so much more, enabling you to sell courses online easily, so you can focus on what matters: building a course and sharing what you know.
If you are not familiar with Teachable and want to learn more, go to read my Teachable Review 2021, where I reveal all the pros and cons of using Teachable to develop the online education business.
---
Teachable 2021 Year-End Offer Details
2022 Business Essential Bundle Give Away
Only valid from NOW to 31st December 2021 (Friday) 11:59pm ET
If you've ever considered creating an online course, this is your sign to start.
Right now, Teachable is offering the 2022 Business Essentials Bundle for free to anyone who joins any paid Teachable plan (starting at a low $29 when you get an annual plan).
What you will get in the 2022 Business Essential Bundle Give-Away?
Six exclusive workshops from the Women Create 2021 Teachable summit:

Passion to Paid: How to Turn Your Creativity Into a Career (by Lauren Hom)

Money Moves: Managing Your Personal Finances as a Creator (by Tori Dunlap)

How to Get Your First Three Coaching Clients (by Luisa Zhou)

Legal Basics 101 (by Taylor Tieman)

Start Small Then Scale panel (with Regina Anaejionu, Suzi Whitford, Dasha Kennedy, and Carrie Green)

Social Media Trends for Marketing Your Business panel (with Taylor Price, Sandy Lin, Jenell B. Stewart, and Dot Lung
Keynote presentation templates

create riveting presentations, with no formatting headaches. Each template contains basic design tips, color palettes, and fonts.
Course launch checklist

includes the exact steps for successfully launching your online course and plenty of insider pro tips straight from Teahcable experts.
How to Confidently Create Captivating Video Content (by Amy Sangster)

a video lecture in which seasoned content creator Amy Sangster coaches you through recording video of yourself with confidence and ease.
2022 social media holiday calendar

helps you leverage social media trends and plan your content marketing calendar ahead of time.

Be the first 500 people to purchase a plan, you will get exclusive discounts to help elevate your online coaching business:
12 free months of a Beacons Pro plan (

$120 value

)

Beacons is a mobile-focused website builder that gives you a way to use the one link allowed in a TikTok, Instagram, or Twitter bio to better engage with and monetize your fans. Display all of your social links and content in a single landing page that's personalized to you.

Three free months of a Community Starter plan ($147 value)

Community is an innovative text messaging platform that connects people, businesses, and brands to the conversations they want to be a part of. You'll receive a unique 10-digit phone number to share with your audience, giving the authentic experience of texting with a friend.

---
Which Teachable Plans should I  choose?
Teachable Plans Feature Comparison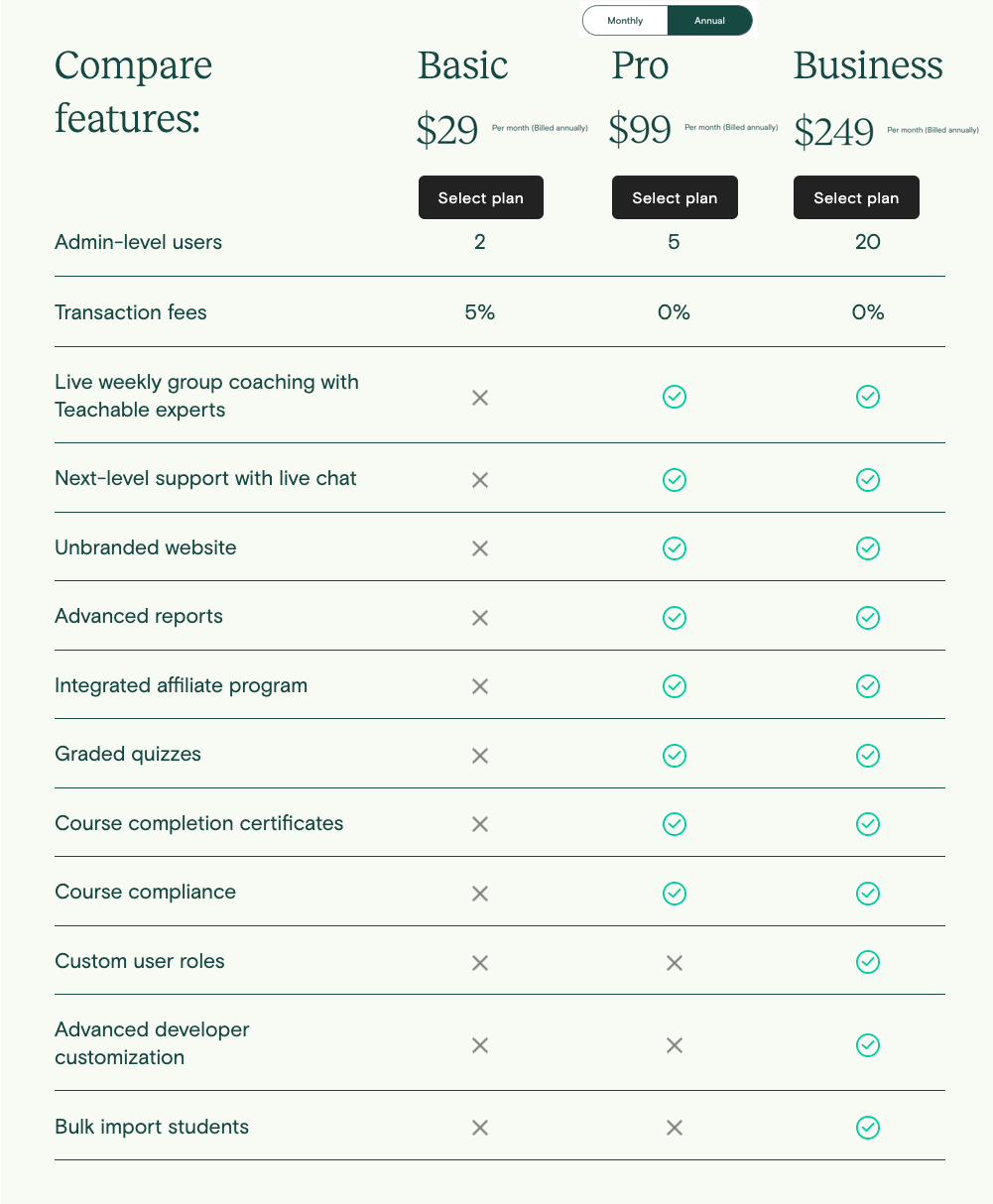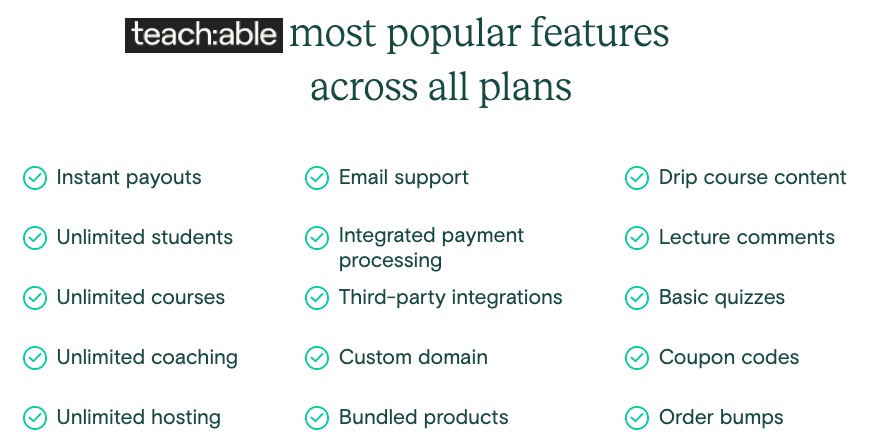 ---
What Is the Join With My Link Extra Bonus and How To Get Them?
Join With My Link FREE BONUS (VALUE of $97) 
An eBook covers the main areas helping NEWBIES to sell their Online Courses successfully,
How to Use Psychology to Increase Sales
How To Raise the Value of Your Products
How This 10-Point Quiz Helps You To Find Your Dream Prospects
How To Think Like a Customer: Selling Tips for Success
How to get Join With My Link Free Bonuses?
After you join the Teachable any paid Plan with my link, please send me an email to claim the offer, with your email address that you submit when you made the Teachable 2021 Year-End Order.
My Email Address: info@openup-opportunities.com
Please use this Email Subject: Teachable 2021 Year-End Offer Join With My Link Free Bonuses
Please indicate the email address you use for the Teachable purchase. After a verification process, I will send you the link to download the bonuses. It will not be more than 5 working days (in Spain).

---
Why Teachable's Year-End Offer – the 2022 Business Essential Bundle Matters To You?
Because in this Teachable 2022 Business Essential Bundle, you will get the business-building tools and educational resources to help you really get your online courses business off the ground in the new year.
Not sure yet?
Want to fully understand how Teachable can help you to become a successful Online Teacher? You can read my Teachable 2021 FULL Review to learn more about their great features.
Making an informed decision is very important in the next few days, once 2021 is gone, so is this offer.
If you've been thinking about selling your knowledge online in 2021, this is the best time to start. Join Teachable and get the 2022 Business Essentials Bundle now. 
Click the button below to join now.

I've seen Teachable put together some stellar bonus bundles before, but this is one of the best — do not miss out! Get the offer now.