Teachable Overview
Name: Teachable
Owner: Ankur Nagpal
Company Launch Year: 2014
Website URL: teachable.com
Price Model:

FREE
Basic Plan – Monthly USD39 | Annually USD29/ month
Professional Plan – Monthly USD119 | Annually USD99/ month
Business Plan – Monthly USD299 | Annually USD249/ month

Target Audience: Coaches, Experts, and Educators who want to create an online course.
Review Items and Rating – Overall Rating 4.75 out of 5 ★★★★★

Membership Plans – Coverage and value: Rating 5 out of 5
Course Hosting Solutions: Rating 5 out of 5
Course Creation Training Materials and Support: Rating 5 out of 5
Course Development Tools and Support: Rating 5 out of 5
Marketing Tools for Promotion and Analysis: Rating 4.5 out of 5
Coaching and Support System: Rating 4 out of 5
---
What is Teachable?
Formerly known as Fedora, Teachable is a unique learning management system (LMS) provider for coaches, educators, creators, and bloggers who want to create and sell their courses online. Teachable, which was founded by Ankur Nagpal, allows users to easily create online courses with a simple, but powerful, all-in-one platform.
Today, there are at least 68,000 instructors who make use of the Teachable platform to share their knowledge. These instructors have a combined total of more than 18 million students and over 186,000 active courses. A combined sum of at least $338 million has been earned by Teachable instructors.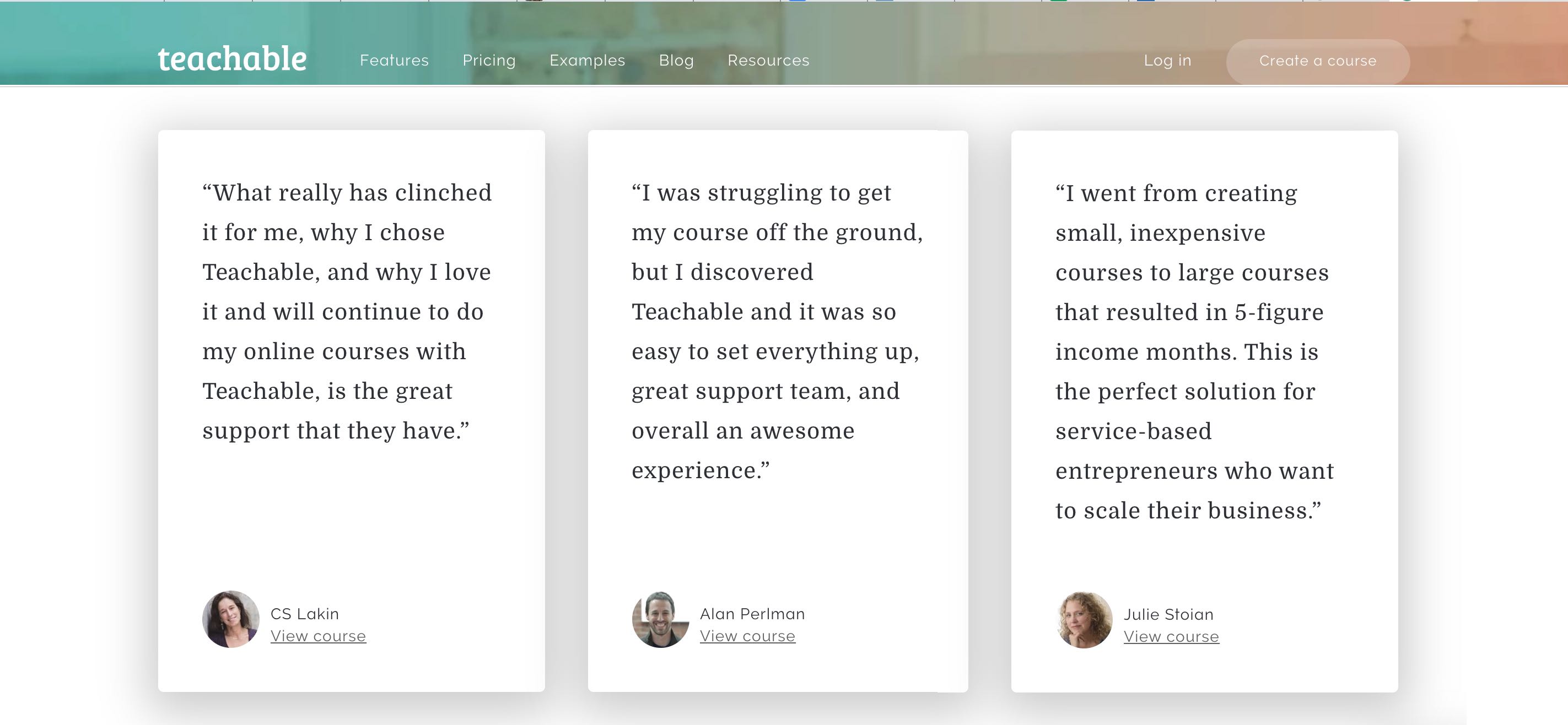 ---
Who Is Teachable For?
Teachable is for skilled individuals, entrepreneurs, creators, industry experts, and pretty much anyone who wants to create and sell courses online to their followers or audience. Teachable is one of the best platforms to use, if you have a skill set you would like to pass on to people, or you want to provide online coaching services remotely.
Teachable offers you an already built professional and unique website that requires little or no configuration. All you have to do is personalize the website to your taste, and share your knowledge with your students in an amazing virtual classroom. It also allows you to create a membership site for easier communication with your students.
Also, you do not need any special skills or experience to create your Teachable account. With just a few clicks, you can get a fully functional online school easily. Your online school would also come complete with payment gateways, sales and marketing tools, as well as a learning management setup.
---
Features of Teachable That Make It Unique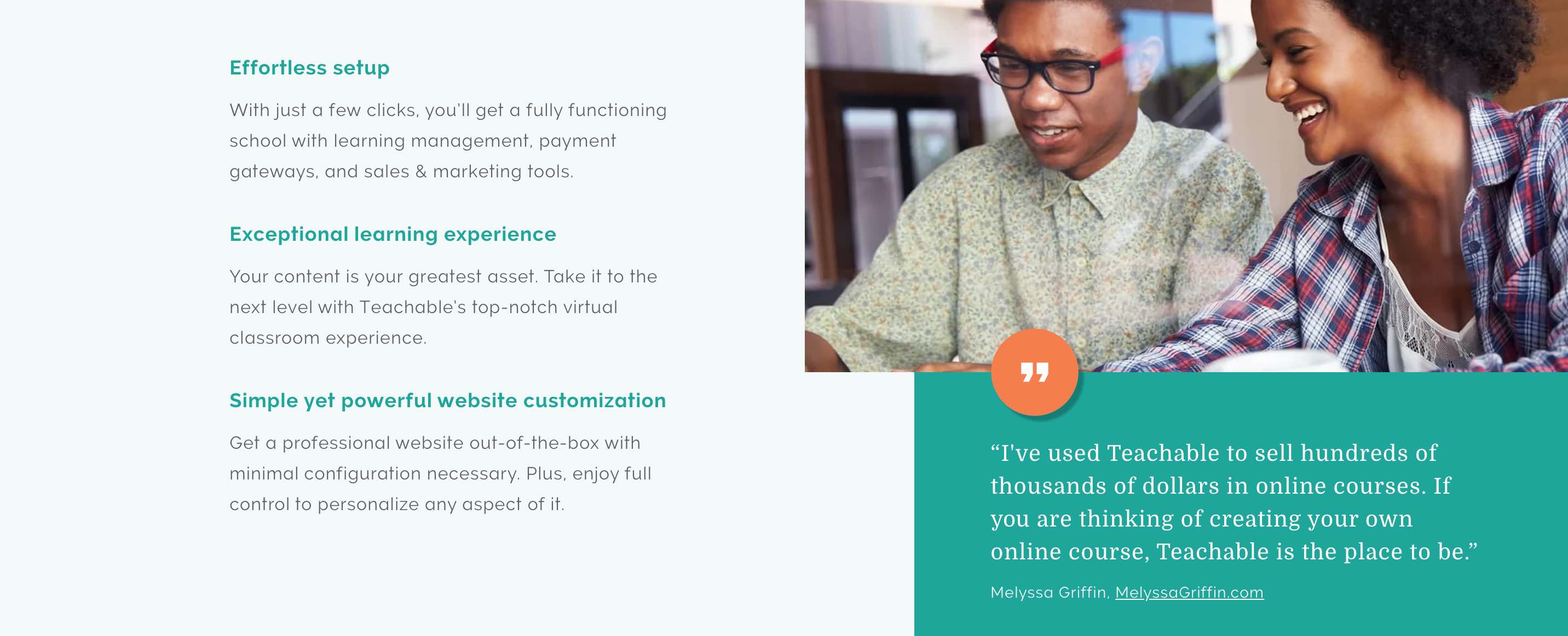 Membership Plans – Coverage and Value
Rating 5 out of 5 ★★★★★
Teachable has four plans to meet the needs of its different users and instructors. Thus, you can choose from the free plan, the basic plan, the professional plan, and the business plan.
As shown in the image below, some plans have some benefits over others. For instance, the business and professional plans have no transaction fees for paid courses, while the free plan and basic plan do.
The four Teachable plans also come with amazing customizable features like student management, enable lecture to give comments and basic quizzes.
All of the features are listed out clearly and there's no extra hidden costs besides the table. While Free plan only includes the fundamental features, the Basic plan almost comes with all features except one, graded quizzes.
For this reason, I give 5 out of 5 for the membership transparency and value rating.
Go to Teachable official site to learn more the membership details.
---
Course Creation Training Material and Support
Rating 5 out of 5 ★★★★★
Teachable does not only help you build an online school with just a few clicks, but also helps you to create your course structure and content by offering abundant course creation training materials you can access to guide you. Their Knowledge Base is categorized by different topics which you can easily find a solution there.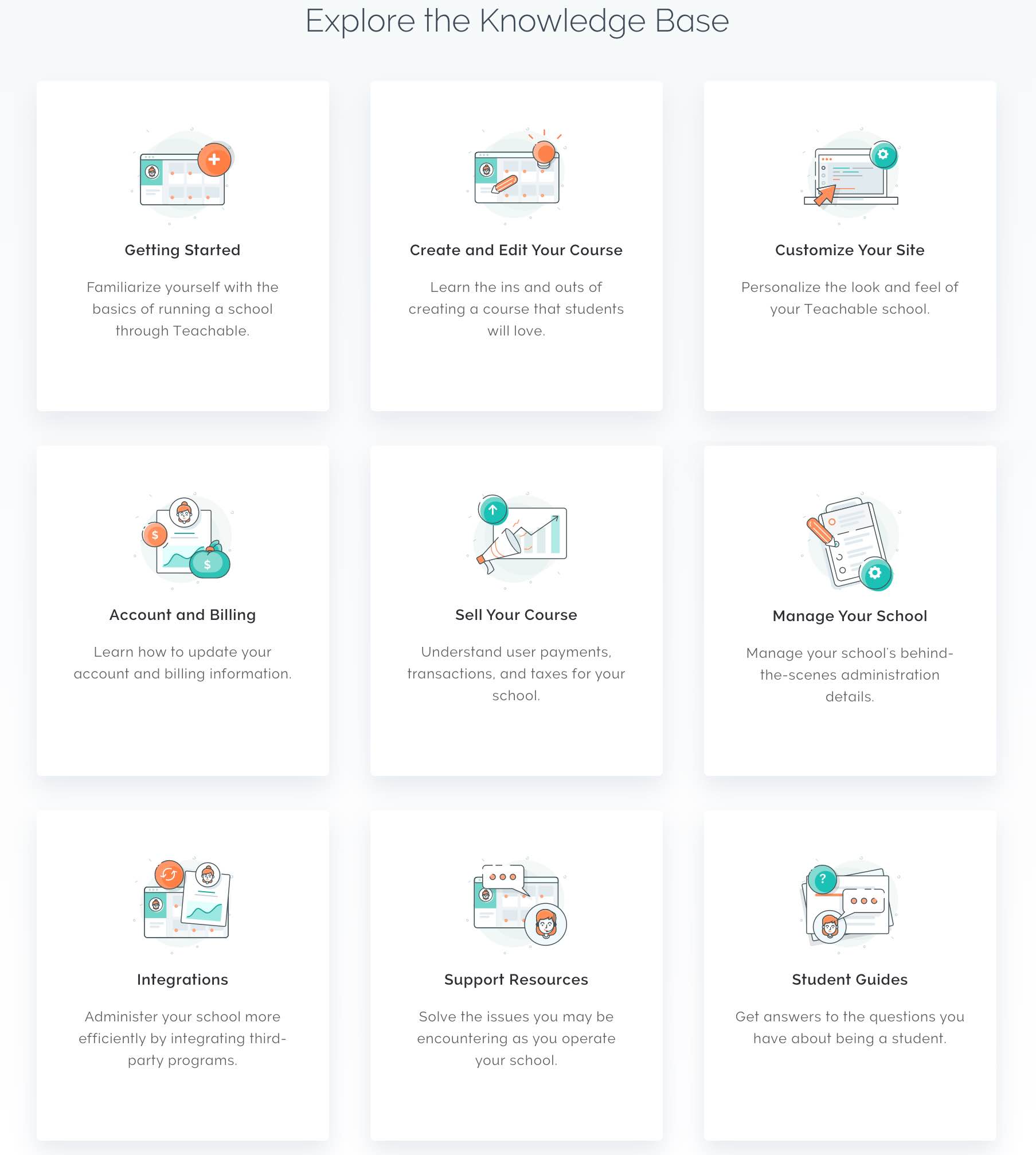 Free Online Webinars, Workshops, Trainings, Events by Teachable Coaching Team and Successful Creators
Teachable always holds different types of online activities to help beginners to start their online school with ease and efficiency. They are free to join even you are not their paid members.
It is very useful as they give you the visibility to know how Teachable works and steps to take, from creating the first course content, marketing your school, recruiting students, managing enrollments all the way down to accepting payments. So that you have thorough information to understand if it is the right place for you to build up your online school business, also to give you the confidence to kick start.
For example, there is an evergreen Teachable Quickstart Webinar that you can join for free, to learn the exact steps you can take to create your own professional online school and start making money. It is hosted by Cameron Mattis of Teachable and their coaching team staff, rest assure to learn the proper ways of using Teachable.
They also host several Workshops, Summit, Coaching, Events throughout the year to welcome anyone to join in online for FREE. You can constantly check our website to get the latest update.
"Share What You Know" 3 Days Online Submit on 22th -24th September 2020
Share What You Know is a three-day virtual event covering every aspect of building an online knowledge business. Industry experts, guest creators, and in-house Teachable pros will share their tips for turning your offline know-how into valuable learning resources.

It is opened for registration now! Click here or the banner to see the full event schedule now!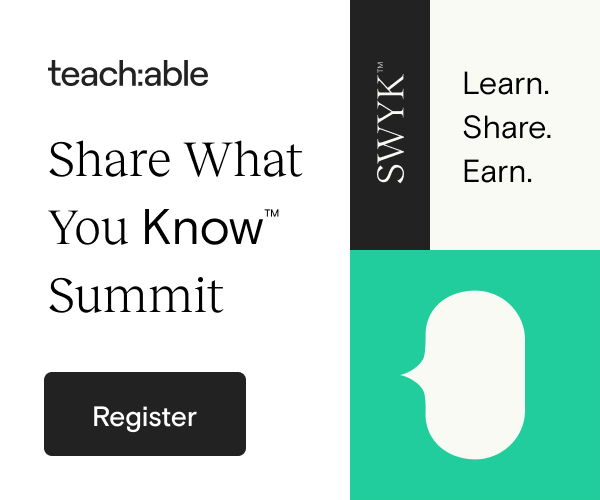 Teachable Quick Starter Webinar
Learn the exact steps you can take to create your own professional online school and start making money.
Register now—it's free!
Teachable Quick Starter Webinar
Learn the exact steps you can take to create your own professional online school and start making money.
Register now—it's free!
Third-party support for customization
They also offer a unique feature called Teachable experts. These are third-party service providers who help Teachable customers build successful online courses and businesses. They are freelancers (such as web designers or virtual assistants), not Teachable employees.
You can engage these experts and hire them to help you build your online school from scratch or take your business to the next level.
You can also find virtual assistants willing to help you handle tasks such as formatting and proofreading your content, setting up complex integrations, customizing your site to match your brand or website vision, and mapping out your content.
As a beginner course creator, all these resources are so valuable and priceless. It is worth giving them 5 out of 5 rating.
---
Worry-Free Course Hosting Solutions
Rating 5 out of 5 ★★★★★
Teachable provides an easy-to-use platform that practically does everything for you, including hosting.
It offers different web hosting solutions and handles other technicalities, so you can concentrate on personalizing your website, and creating and packaging your online courses. Thus, you don't have to worry about things like monitoring your website for downtime, securing your websites and payment gateways, loss of data, plugin updates, etc.
Except for Free Plan only allow you to have 10 students, all other plan has no limitation of number of students. Also, it gives unlimited video bandwidth and hosting for all 4 plans users, which in my opinion is quite generous. Together with the no worry about any technical issues which enable you to focus on your content, I give 5 out of 5 for this part of the rating.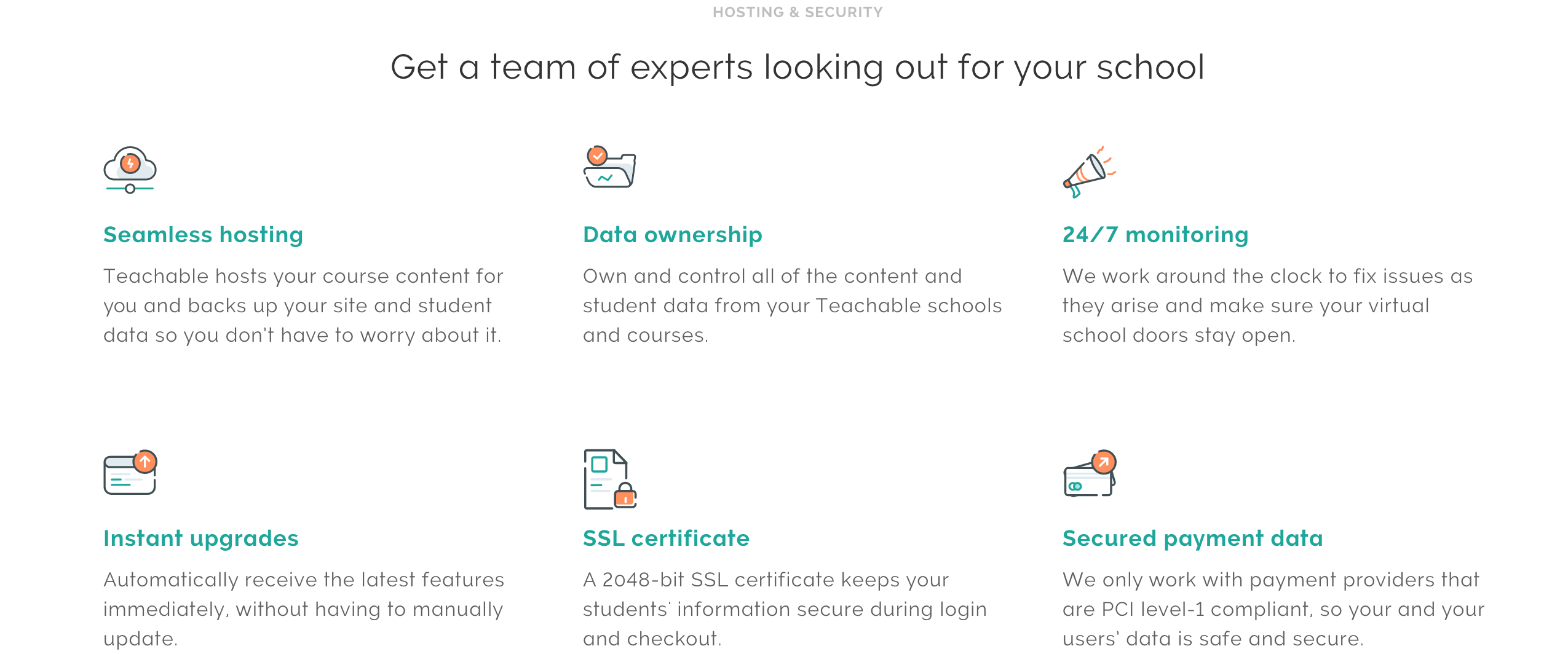 ---
Course Development Tools and Support
Rating 5 out of 5 ★★★★★
In addition to providing you with course creation training materials, Teachable also offers the tools and support you need to develop and make your courses exceptional. It enables you to create your courses easily, as well as customize them to engage your students effectively and enhance their learning experience. 
There's the drag-and-drop website builder, which allows you to build a user-friendly online course website that your students can interact with and access your courses easily with a desktop or smartphone. It also provides different payment gateways that enable your students to pay for your courses seamlessly. 
Additionally, you can easily create quizzes, enable course compliance to enforce lecture completion, and issue course completion certificates. You can also integrate tools such as Google forms to collect information from your students that will help you understand their needs and serve them better. You can check out the Teachable tutorial on how to create professional course content that your audience would like here. 
Since the course development tools are very comprehensive and well design, I give 5 out of 5 for the rating. 
---
Marketing Tools for Promotion and Analysis
Rating 4.5 out of 5 ★★★★✩
Teachable saves you money by providing you with a wide variety of built-in marketing tools to grow your business. With their marketing tools, you can promote your courses by creating your own affiliate programs, customizing your sales pages, creating coupons with custom expiration times, and more. 
Furthermore, you can also track and analyze your engagement with Teachable inbuilt reporting and analytic tools instantly. You can see the number of student signups and your revenue at a glance on your comprehensive Teachable dashboard. You can also view other insights, such as your average lecture completion rates, as well as export data easily. 
In addition to the built-in marketing and analytical tool, Teachable allows you to integrate several other external marketing and analytic tools to your account. 
Though the amount of software for integrations is not a lot, it covers most of the common ones. And because of this, I give 4.5 out of 5 for the rating. 
---
Coaching and support system
Rating 4 out of 5 ★★★★✩
The four Teachable plans include email support and online ticketing, while only Professional and Business Plans include Live Chat support, and none of the plans has phone call support. 
I am not their Professional Plan nor Business Plan client, so my experience is only limited to their online ticketing and email support, which in my opinion, their response is not fast enough. Sometimes it may take over 48 hours/ over 2 business days to get their reply, which is quite slow in this high-demanding digital world.
For this reason, I give only a 4 rating for this part. 
---
Teachable Review Conclusion
Teachable is a great way to start a remote job as an online coach/instructor, as it offers several unique tools that will make it easier. When compared to similar platforms like Udemy and Uscreen, Teachable offers more advanced features and tools. 
The outstanding part is, Teachable offers control on how your courses are sold, as well as allow you to regulate your course pricing and discounts. Udemy, for instance, bundles and sells different courses together in package deals with discounts. But with Teachable, you have the flexibility and freedom to decide if there would be discounts and how much. 
With all of these features, we can conclude that Teachable is a great choice to kick start your online coach career. 

So, what are you waiting for? 
Sign up here now, and join the ever-growing list of online instructors selling their courses using Teachable. 
Please note this post contains affiliate links, which means I'll earn a small commission if you purchase through my link at no extra cost to you. Please see full privacy policy here.
Please note this post contains affiliate links, which means I'll earn a small commission if you purchase through my link at no extra cost to you. Please see full privacy policy here.