The Teachable Women Create 2021 Online Event is Finished.
But not your Passion ….

Teachable is With You. 
To Continue Encourage Women to follow their dreams, create their paths, impact the world…Teachable Offers A Special Bonus Only Available In March, the Women's History Month.
Unlock the 2021 Creator Success Bundle (value $4,800) & Save $20/month now. 
What Would You Create If You Were Guaranteed To Succeed? 😉
Teachable Women Create 2021
What would you create if you were guaranteed to succeed? 😉
Are you busy March 23 – 25, 2021?
Join me at Teachable's Online summit: Women Create 2021
---
Let's turn your passion into profit. This free online summit is designed to help you confidently start, grow, and scale a booming online business.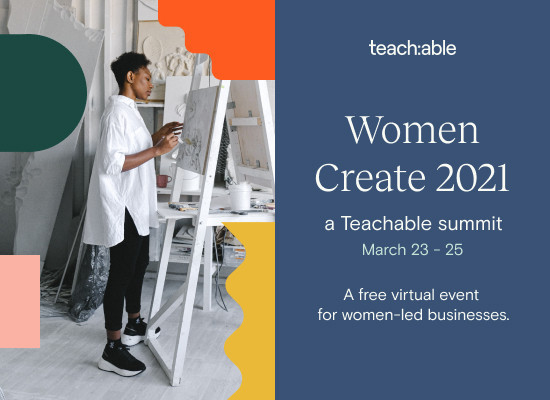 The free three-day virtual summit from Teachable designed to celebrate women creators and help you build a profitable business by sharing your knowledge and passion online.
During this virtual event, you'll hear from 30+ inspiring experts and creators. They'll be covering the most urgent topics related to growing and scaling an online business through courses and coaching, with a special focus on women entrepreneurs.

They're going to cover so much in three days, including:
Actionable tips to organically grow your audience and your email list
Simple steps to land your first three online coaching clients
Ways to overcome doubt and imposter syndrome while gaining confidence in your business
Strategies for managing your personal finances as an independent entrepreneur
How to use LinkedIn, Twitter, Instagram, and TikTok to grow your following and make more sales
Click Here To Get Your Free Access for 3 Day event and 14 days Free Replay link.
---
Your free ticket includes access to:
3 Days full of actionable insights from women business owners like you
30+ Experts across live webinars, panel discussions, and on-demand trainings
2 Weeks of access to all replays to fit any woman's busy schedule
---
Don't Miss It Today – the Last Day (25/3) Thursday
Live Session
[11:00 AM EDT] The $1 Million Course Email Strategy by Kendrick Shope
[2:00 PM EDT] It Pays to Give: Designing a Customer-Centric Coaching Program by Mélissa Peng
[4:00 PM EDT] Start Small, Then Scale by Regina Anaejionu, Suzi Whitford, Dasha Kennedy, and Carrie Green
[5:15 PM EDT] How to Pre-Sell your Course and Jumpstart your Earning with Teachable by Soph Avalos and Sam Vega
[6:30 PM EDT] The Spark Method: Creating an Irresistible Personal Brand in 2021 by Tiffany Tolliver
[8:30 PM EDT] How to Turn Your Passion into a Paycheck by Oneika Raymond
On-demand Training/ Workshop
How to Reclaim Your Sanity and Prosperity in the Pandemic by Cleo Stiller
Instagram With a Plan: 2021 Playbook for Growing a Brand on Instagram by Michelle Thames
Find Your Voice & Own Your Value: Breaking Through Imposter Syndrome by Ashlee Klevens Hayes
LinkedIn 101 for Women Entrepreneurs by Deepika Shah
The Perfect Pitch: Finding Your Voice & Conveying Your Message by Regan Farley
Transform Your Purpose Into Profit by Quinn Tempest
CPR for the Soul (Mindset Management for Women Entrepreneurs) by Lisa Gillette

Don't worry if you can't attend all 3 days (just like me).
Register now, and you will have 14 days of access to all replays to fit in your busy schedule.

Haven't heard about Teachable? Check Teachable Official Website
Read Teachable Full Review: Teachable Review 2021 – A Popular Online Course Platform to Create and Sell an Online Course