Canva Review
The Perfrect Online Design Tool for Beginners and Experts.
So, in my previous post, Why Everyone Should Use Canva For Design, And Not Just Photoshop, I talked about the reason why I recommend using Canva alongside Photoshop, regardless of whether you are a beginner or experienced graphic designer.
Now, let's continue to explore more details about Canva based on my first-hand experience. 
---
Canva Review Overview
Name: Canva
Owner: Melanie Perkins
Company Launch Year: 2012
Website URL: canva.com
Canva Membership Plans: Canva Free and Canva Pro

Pro– Monthly USD12.95 | Annually USD9.95/month (USD119.4 billed yearly)

Target Audience: All level designers (from beginner to advance level designer)
Pro Features Review Items and Rating – Overall Rating 4.67 out of 5 ★★★★★
Massive Database of Copyright-Free Resources: Rating 5 out of 5
Exceptional Design Tools: Rating 5 out of 5
Outstanding Brand Building Tools: rating 5 out of 5
Variety of Publishing Options: rating 5 out of 5
Cloud-Based Hosting Capability: Rating 4 out of 5
24/7 Premium Support: Rating 4 out of 5
---
Canva Membership Plans
First, let me state that actually there are 3 Canva plans:
Canva Free – for individuals and small groups working on quick projects
Canva Pro – for individuals and small teams who need more customization and productivity
Canva Enterprise – for larger organizations who need advanced brand and collaboration control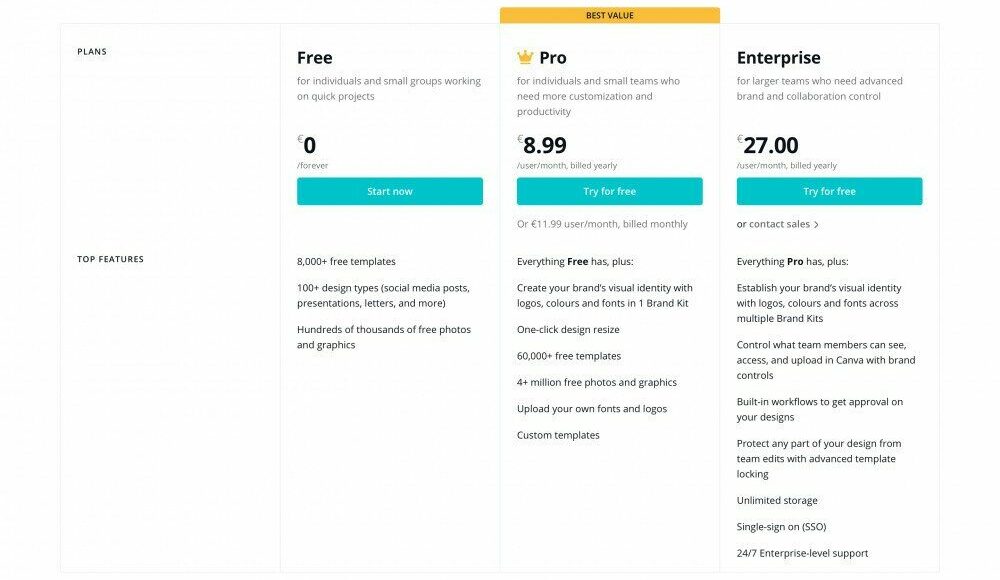 As you can see, the Canva Enterprise plan is more suitable for bigger organizations, and not for individuals or small size business.
And since I've never used this particular plan, in the following Canva Features Rating and Reviews, I will skip the Canva Enterprise Plan and only focus on the Canva Free and Canva Pro based on my real personal experience.
At the end of it, I hope this can help you to make a fully-informed decision if you are struggling to choose between the Free or Pro plan.
---
Canva Free Vs. Canva Pro
The Canva Free package is for individuals and small groups working on quick projects, and it costs nothing to use. While at $9.95 per month, the Canva Pro is for individuals and small teams who need more customization and productivity.
For both packages, you will be able to design anything using the drag and drop features, as well as enjoy plenty of free stock photos and fonts. However, the Canva Pro has more features with tons of benefits, despite the small fee charged for the package.
Below is a table showing the key difference between the Free and Pro plan at a glance: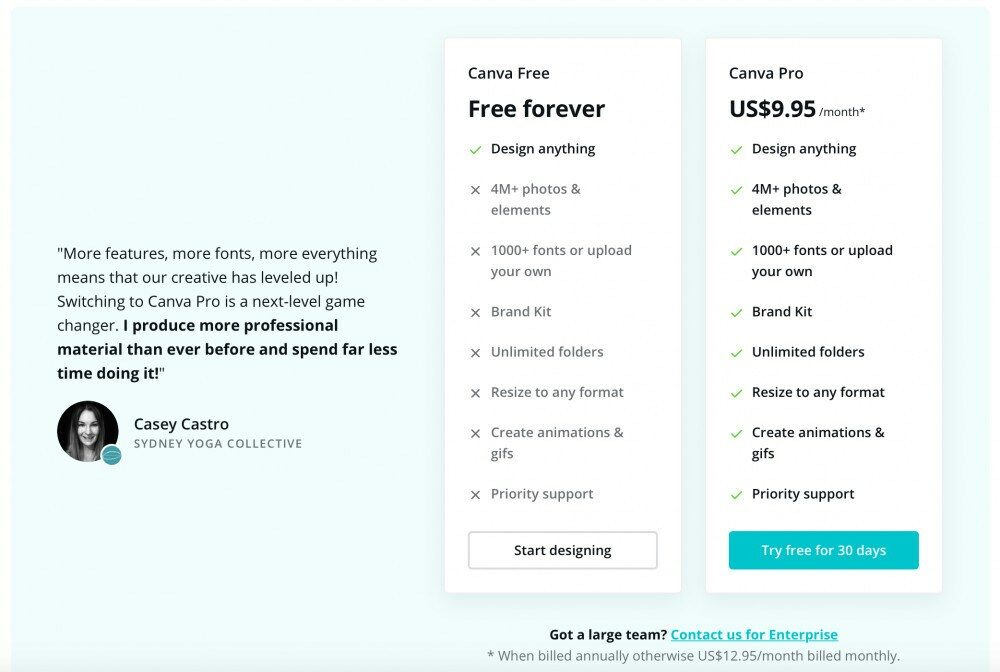 ---
Why You Should Get Canva Pro – Review & Rating Based On My Personal Experience
Although Canva Free offers up to 8,000 free templates, 100+ design types, and thousands of free photos, Canva Pro offers even a more massive database of millions of photos and elements, as well as other amazing features.
While the previous table already shows you what is included or not included in Free and Pro plan, I am going to walk you through further on how some of the exclusive Pro features can help make your design process more smooth and productive, as they do for me.
Let's dive into more details about what you can do with Canva Pro, and my rating for each feature.
1. Massive Database of Copyright-Free Resources
Rating ★★★★★
Canva Pro has over 4 million free design items (while free has only a couple hundred thousand), so you don't have to worry about copyright infringement.
These include stock photos, illustrations, animated gifs, videos, icons, frames, and fonts, which you can use to enhance your design.
And, if you can't find what you need in the millions of free resources, you can purchase premium items easily within Canva, for as low as $1.
You can also import your own design materials from different app sources, such as Emoji, Pixabay, YouTube, Dropbox, Instagram, and more.
2. Exceptional Design Tools 
Rating ★★★★★
While Canva Free has several features that you won't find in Photoshop, like their super editing Drag-and-Drop tool and one-click apply design elements, Canva Pro goes beyond these by miles. It comes with more advanced editing tools on top of the handy ones for Free version, such as the Magic Resize Tool.
Magic Resize Tool
This tool is one of my super favorites as it saves me so much time when I have to use the same visual design for my website, newsletter and other different social media channels (Facebook, and Instagram). Basically, it allows you to resize your design into different sizes in a click.
For instance, if you create a design using the blog post image template, with just one click of a button, you can resize it to a Facebook (cover, profile, ad images), Instagram, or Pinterest image, and 20+ print and digital formats.
Bigger Pre-sized Templates Database
Free: 8,000 free templates vs. Pro: 60,000 free templates
While Canva Free includes 8,000 free templates, Canva Pro comes with a 7.5 times more extensive database of pre-sized templates specifically made for various purposes.
Thus, you only do not need to struggle with trying to input the accurate size for your design, as you would with Photoshop. There's also a higher chance that you'll find a high-quality template that fulfills your needs within the 60,000 Pro templates than you would in the 8,000 Free templates.
For example, animated templates only come with Pro.
Background Remover
Recently, Canva launched one new and great feature on the Pro plan – Background Remover! This tool enables you to delete the background of any image easily and lightning fast.
Remove background in Photoshop is possible but not really a simple task, but in Canva Pro, for real, you can do it with just one click!
The above three exceptional design tools in Pro plan are extremely useful for me, but the list won't stop here. There are many others also worth to have for your use.
3. Outstanding Brand Building Tools
Rating ★★★★★
Canva Pro helps you with branding your designs to make an impression on your prospects. With the branding management tool, Brand Kit Pro, you can create unforgettable marketing materials to improve your business brand.
Brand Kit Pro
It enables you to build a personalized kit by creating or uploading your business logo, brand fonts, and colors so that you can produce branded designs for your business more efficiently.
4. Several Publishing Options
Rating ★★★★★
With Canva Pro, you can download your designs in six different file types, including unique design formats like animations and video MP4. It also offers the flexibility of setting the quality of your designs in percentages, which is easier compared to the different complicated settings in Photoshop. Furthermore, you can set the file size of your design, and download several pages at a time.
Download File types:
JPG
PNG with a transparent background and Compress file options
PDF Standard
PDF print with the option of "Crop marks and bleed."
Video MP4
Animation (Movie MP4 or GIF), with several animation styles to choose (Fade, Pan, Block, Rise, Breathe and Slide)
35 Different Ways To Publish
Canva Pro also allows you to publish your designs in 35 different ways. You can post to almost all social media platforms, including Facebook, Twitter, Instagram, and LinkedIn, as well as to your mail, Slack, and MailChimp. You can also publish and share your templates and designs with your team on Canva.
Embed Code Ready Image
Another great feature is that you can copy and insert the embed code of your design to your website to display it, without going through the hassle of downloading and uploading the design. And, whenever you make any changes directly in Canva, your design will always update automatically!
5. 100 GB Cloud-Based Hosting Capability
Rating ★★★★✩
Unlike Canva Free that has 1GB cloud space storage for photos only, Canva Pro offers 100GB to store all your designs, including images, templates, and animations in the cloud.
This big storage size should be more than enough for many users. You don't have to spend time deleting some of your designs to make room for the new ones, as they will be stored safely and ready for you whenever you need it in any device.
The only two things to complain about are, if the internet connection is interrupted, you may have challenges synchronizing your last update version. And, if you open too much design project at the same time, and your computer has a low RAM or memory space, the loading time will slow down a little. Nevertheless, Canva's auto-save function would keep your last update action safe!
For this reason, I lower my rating for this review item to 4 stars instead of 5 like others.
6. 24/7 Premium Support
Rating ★★★★✩
Canva has a Design School that is available for both Free & Pro members, which offers different outstanding design courses, as well as offers numerous design tips and self-learn materials. However, while these can help, you may sometimes need extra professional support.
Unlike Canva Free, 24/7 support is offered to Canva Pro members. This support utilizes a ticket system, in which you submit your queries by filling a form after you login to Canva, and later on, you will get their reply via email. You can ask any questions related to your account, settings and designs.
Unfortunately, there's no instant chat, direct email, nor phone support, which are usually faster ways to get help when you urgently need a fix on your design. For this reason, I give the rating 4 instead of 5.
---
Conclusion
Canva Pro is a worthy design tool with an unbelievably low cost for the powerful features it offers. If you are a beginner designer or someone who just needs professional designs for an online remote job, it is worth the investment, as you would not have to pay for most quality stock images nor worry about copyright infringements.
And, if you're an advanced designer, who already paid for Photoshop license, you surely can maximize your design power with Canva Pro, with a pretty good price, as low as USD9.95/ month.
So, what are you waiting for? Try Canva Pro for Free for 30 days today! Or at the very least Sign Up for Canva Free to see how it works.
Please note this post contains affiliate links, which means I'll earn a small commission if you purchase through my link at no extra cost to you. Please see full privacy policy here.