Handpicked 2019 Black Friday Deals Beneficial towards Your Remote Work Life
The craziest sale of the year begins after Thanksgiving: Black Friday.
Many of you are waiting for this day to come so you can purchase your most desired products. This also happens in the business world.
There are many online business development platforms and tools that push forward their yearly Black Friday Offers and most of the time, the discounts are BIGGER than ever.
If you are considering or have already decided to start your remote work journey as an Affiliate Marketer or Online Coach, this post is for you so please read on.
If you read my action item post – Top Recommended Platforms for 5 Online Remote Job Models, you probably made a list of the online programs you would like to try out. Some of you may still struggle to decide which platforms on the list are worth testing so, I would like to make it simple for you. I am only introducing one platform for each of the 2 most popular online job models and all of them offer Black Friday deals.
This Handpicked Black Friday Offer article will help you to not only to save maximum USD289 for Wealthy Affiliate and save up to USD1,789 for Teachable, but will also spare you time.
Since both deals are only valid from 29th of November to 2nd of December, let's jump into the main Black Friday content now.
(Please note this post contains affiliate links, which means I'll earn a small commission if you purchase through my link at no extra cost to you. Please see full privacy policy here.)
---
Wealthy Affiliate
The Legit Affiliate Marketing Training and Business Development Platform for anyone who wants to run Affiliate Online Business
With 14 years of experience, members in 193 countries and almost 1.5 million users, you can rest assured that WA is the real deal. A trustworthy and reliable company that has rooted deeply and is here to help you turn your life around if you are ready to invest your time and energy in affiliate marketing business.
What You Can Get with Wealthy Affiliate Black Friday Offer 2019?
---
One action to SAVE big Every Year for the rest of time. Don't miss the opportunity.
This Black Friday Offer is only valid from
November 29th, 2019 (Friday), through December 2nd (Monday) 11:59pm PST
SAVE up to USD24 Each Month = USD289 Each Year!!
ALMOST 50% DISCOUNT!
100% best WA Premium membership offer EVER with almost 50% discount that brings your yearly subscription expense down from USD588(monthly plan) or USD359 (annual plan) to the lowest price of USD299 only!
This Black Friday Price will then be yours forever, as long as you keep your membership running. One time saving for all-time!
The money you save can be utilized for your affiliate marketing business or whatever you want to spend it on. One date night. Gym membership. A nice dinner. Your savings account. Those $ do add up.
Never-seen before exclusive bonuses included in 2019 offer. You'll receive your downloadable bonus content immediately and gain all the event access upon purchasing the Black Friday offer:

BONUS 1 – Supreme Live class The Path to Affiliate Stardom in 2020 – Kyle Goes AMA (Ask Me Anything).
BONUS 2 – Free access of Creating a Thriving Authority Website in 2020 – 5 weeks of live training and afterwards replay links
BONUS 3 – Instant Free download access for Building an Incredible Internet Business in 2020 Whitepaper
BONUS 4 – Get early Beta access to new platforms
Don't wait too long. Make the best decision now or lose the chance tomorrow.
You have 4 days to utilize the $25 a month deal, from November 29th, 2019 (Friday), through December 2nd (Monday). Click here (or below image) to join now.
If you wonder, "Yes, this Wealthy Affiliate Black Friday is certainly a big offer, but what is the reason I should join it to set up my affiliate marketing business?" Then, please read my Comprehensive Wealthy Affiliate Review, which will tell you why this affiliate marketing training and business development platform can help you to succeed.
Not sure yet?
Subscribe Our Heads-Up Black Friday Offer Deal Email List
to receive our exclusive content, Wealthy Affiliate Black Friday Offer 2019 with all FAQs answered
A taste of WA online course content access without registration
and all other bonuses and resources to develop your remote working business.
---
Teachable
A Course Creation Platform that you have full control of, deliveries and branding, at a low cost
Transform experience, hobbies and knowledge you truly love into courses that make money and help others. Reach students all over the world. It does not matter where you are, with a computer, you can teach those that are oceans away.
Teachable is one of the top industry-leading online course creation and hosting platforms that can definitely help you to set up and run your academy with full authority.
**** Teachable Black Friday 2019 Offer ****
It is the first time ever that Teachable joins Black Friday fever ever.
SAVE up to USD199 in a Year!!
Enjoy incredibly low and exclusive Black Friday 2019 offers with the lowest price ever while teaching what you really love. Only valid from 29th November (Friday) to 2nd December 2019 (Monday) 11:59pm ET

Go as low as USD299 instead of UDS348 (

SAVE USD49

) – for the whole year Basic membership while receiving value and access to UNLIMITED courses.
For $749 (instead of USD948) – unlock most benefits when choosing the Professional membership and SAVING $199 with this one time Black Friday discount
With every annual plan HEAVILY DISCOUNTED for a LIMITED TIME, you can seize the opportunity and enjoy full benefits for less

EXTRA Bonus: FREE access to their flagship program, TeachableU and 8 weeks of live-group coaching

with the Teachable team.
A 100% satisfaction guarantee lets you cancel your membership before your first month runs out. If you are not happy with your gains, you can walk away within 30 days after you pay the plan.
Don't miss out on the possibility to gain more by SAVING SMART
An incredible never-before had chance to reach your future online students while saving and sharing value at an affordable price. This Teachable Black Friday 2019 Offer will only last for 4 days, from 29th of November to 2nd of December 2019. Click here (or below image) to join now.
Not sure yet?
Subscribe Our Heads-Up Black Friday Offer Deal Email List
To Receive our exclusive content Teachable Black Friday 2019 Offer with all FAQs answered
and all other bonuses and resources to develop your remote working business.
Want to fully understand how Teachable can help you to become a successful Online Teacher? You can read my Full Teachable 2019 Review to learn more about their great features.
Click HERE  to Check the Limited Time Offer Details Now.
---
Fiverr
The cost and time effective platform to outsource the work for building up your business.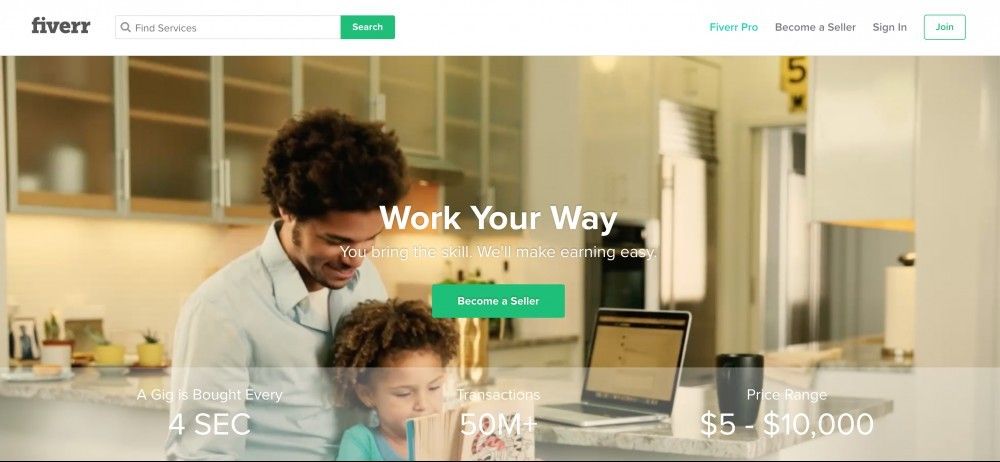 Established in 2010, Fiverr is one of the top online freelance platforms for skilled freelancers (known as sellers) who offer their services or expertise through packages called "gigs", which business owners (known as buyers) can search through and purchase, starting at $5 to $10,000+.
In order to start running your online affiliate marketing website or online academy, you may need to outsource some works that is essential but not familiar to you. Get it done professionally, with the lowest cost in money and time.
Building a website, content writing, proofreading and formatting, voice-over recording, brand logo creation. Those are just some of the needs you might have.

Fiverr is one of the most popular freelance service providers that can help you achieve all the challenging tasks that you are not good at. You can focus on creating the content that no one can create but you.
Connects freelancers and business owners from all over the world. Without limitations on location, you can hire any freelancers in any time zone.
The leading online freelance platform that helps sellers complete all kinds of work to run their small to medium business.
Easy account setup, gig purchasing and secure payment process.
With eight categories and 200+ services, you are bound to find the service you need for your niche. Choose between Graphics & Design, Digital Marketing, Writing & Translation, Videos & Animation, Music & Audio, Programming & Tech, Business or Lifestyle and launch.
With gigs starting at $5, Fiverr is the ideal platform to utilize when you need help to develop an affiliate marketing website, become an online coach or set up an online store, .
Rapid task completion time, usually 48 to 75-hour deliveries help ensure that you won't fall behind your deadlines.
No limit on gig purchasing at one time, you can buy as many gigs as you need to expand your "outsourced" team that can in turn work on your project and speed up the process. It is not just time-saving but also minimizes your costs while traditionally you would need to have full-time employees for different services.
Simple yet secured payment gateway – Fiverr handles all transactions made on the platform and follows the highest (Level 1 PCI-DSS) security standards while offering multiple options in monetary withdrawal methods.
Because of the highly competitive field, you can find the perfect gig for you for the best price and most appealing conditions. There are many sellers out there that can get the job done. You can find the best fit for you.
Try Fiverr to start running your business with ease and at the lowest cost.
GET 10% Off Fiverr Coupon Code. Limited Time for New Users Only.
Subscribe Our Heads-Up Black Friday Offer Deal Email List. Enjoy 10% Off for any purchases of gig services or Fiverr Learn. We will send you
Fiverr 10% Off special Coupon Code
Wealthy Affiliate Black Friday 2019 Offer details
Teachable Black Friday 2019 Offer details
---
I hope you find this handpicked Black Friday Offer article useful for your online remote work journey.
As I mentioned in an earlier post – Top Recommended Platforms for 5 Online Remote Job Models, there is no way for anyone to confirm if you have made the best choice. You can never know unless you have the luxury of enough time and money to try each option on my list. So my recommendation is to choose one and stick with it.
And I hope that with my support selecting only 2 platforms for your Black Friday decision, this will be a helpful guide for you. To avoid hard-decision making, drag you out from the idea exploration phase and send you into the real action.
Action is the Fundamental Key to All Success
"Start where you are. Use what you have. Do what you can." – Arthur Ashe
"The first step toward success is taken when you refuse to be a captive of the environment in which you first find yourself." – Mark Caine
There are many nice quotes I can use to encourage you, but without a real action from you, all of these are just another nice story that you are going to hear about others but never experience by yourself. By clicking one or two of the links and joining any one of the platforms, you will have actually begun on a path of change.
You know anytime is the right time to grow. There are many options out there waiting for you to be picked up, to end the hindering of the limitation of traditional work. You can earn a stable, sustainable, decent income while maintaining your health, family life, dignity and time by starting to work remotely.
Take action now before the opportunities slip away.
-->