Fiverr - For Being a Freelancer
Fiverr - For Hiring Professionals
Fiverr is one of, if not the largest online marketplaces for digital services, to date. 
It was created to connect freelancers with business owners who need specific tasks done. On the Fiverr platform, business owners can hire freelance experts capable of handling a wide range of tasks; and freelancers with different valuable skills can market their services and get clients easily.
But is Fiverr legit?
What is the platform all about?
How does fiverr work? 
What are the benefits of using this marketplace as a business owner or as a freelancer who wants to start working remotely? 
This article would answer all of these questions and more.
First, we look at what the platform is about.
What is Fiverr?
Established in 2010, Fiverr is one of the top online freelance platforms today that is meeting the needs of both, freelancers and business owners. On this platform, skilled freelancers (known as sellers) offer their services or expertise through openings (known as gigs), which business owners (known as buyers) can search for through and purchase, starting at $5.
With eight major categories and over 200+ services on Fiverr, freelancers with different skills can join the platform, and businesses can purchase any service they need.
Major categories on Fiverr include Graphics & Design, Digital Marketing, Writing & Translation, Videos & Animation, Music & Audio, Programming & Tech, Business, and Lifestyle.

Popular services on offer range from copywriting, social media marketing and voiceovers to logo designs, Photoshop editing and web programming. Thus, just about anyone with a skill or business can make money online by signing up on the platform.


If you are thinking of working remotely because of the limitations you're facing while working a traditional job, Fiverr is a great choice. For instance, if you choose to run an online store, set up an affiliate marketing website, or be an online coach, you can get help to do all the tasks you need, such as developing your website, designing images, creating content, and so on, at Fiverr.
If you have skills to offer as a freelancer, Fiverr is a great platform for you to plug into the global market and get clients from all over the world, instead of being limited to local market demand.
---
How Fiverr Can Help You Run Your Online Business
As a beginner remote worker, who wants to create their very first online business, there are so many tasks you may not be qualified to fulfill. You might not have the cash flow to hire a full-time employee.
Things like building a website for affiliate marketing, creating graphics or video for your online course materials, or just designing a logo. It all can be overwhelming. Hiring a Fiver freelancer is an easy and affordable way to get the help you need to start your business.
As your online business grows, the workload might increase and you may not have the time to do everything, even if you know how to. Outsourcing on Fiverr frees up your time and enables you to focus on other essential tasks and scale up your business.
Fiverr freelancers can help you maintain your rapidly growing online business easily by helping you with pretty much any task, including content creation, Facebook ad setup, social media management, fixing a website glitch, editing your brand videos, creating animations or explainer videos for your products, and more.
Furthermore, most of the freelancers deliver assignments quickly (usually between 48 to 72 hours), depending on the task, ensuring that time is never a problem as you build and run your business. When you need an urgent solution, you can get your ordered gig finished faster (in say 2-24 hours) by paying an extra fee.
---
Buying On Fiverr: The Process
Fiverr made their platform very easy to navigate for both buyers and sellers, so finding experts for your tasks would not be a problem. Once you sign up as a buyer, you can start searching and hiring sellers.
Search for Fiverr Service
You can simply type the service you want in the search box and see the result. Or if you don't have an idea what to type, you can mouse over each big category name and choose the most suitable sub-category service from the drop-down menu,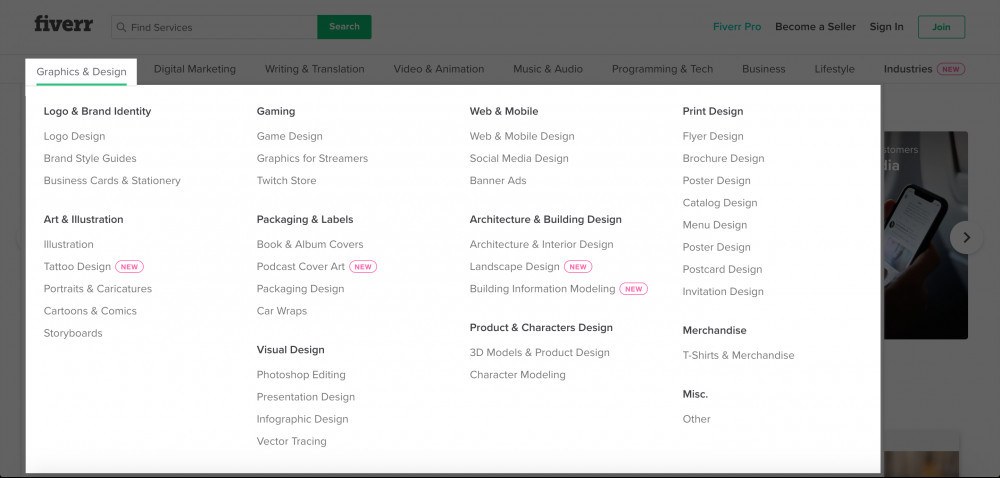 The search feature on Fiverr is highly intuitive and has a lot of tools that help you weed through the massive pool of expert freelancers.
Let's say you would like to hire a freelancer for a logo design service, you can do advanced search by setting filters by Logo Options, Seller Details, Delivery Time, and Budget.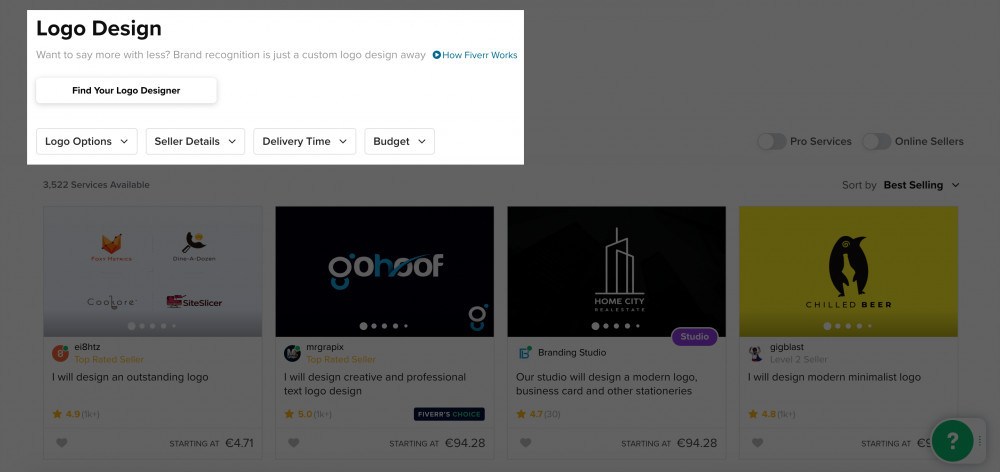 Check the Pricing and Review
Once you set up the filter, you can easily find any service (gig) within minutes. Each gig is listed clearly the service scope and the price, so you know exactly what you'll pay. No hourly rates, just a fixed price.
Once you find a service seems fit you, before buying it, you can check the reviews of previous buyers on the numerous sellers' profiles to help you make the best decision. You can also have a conversation with the seller about their qualifications and your needs before you hire them.
In addition, you can list your service request on a section called "buyers' requests section".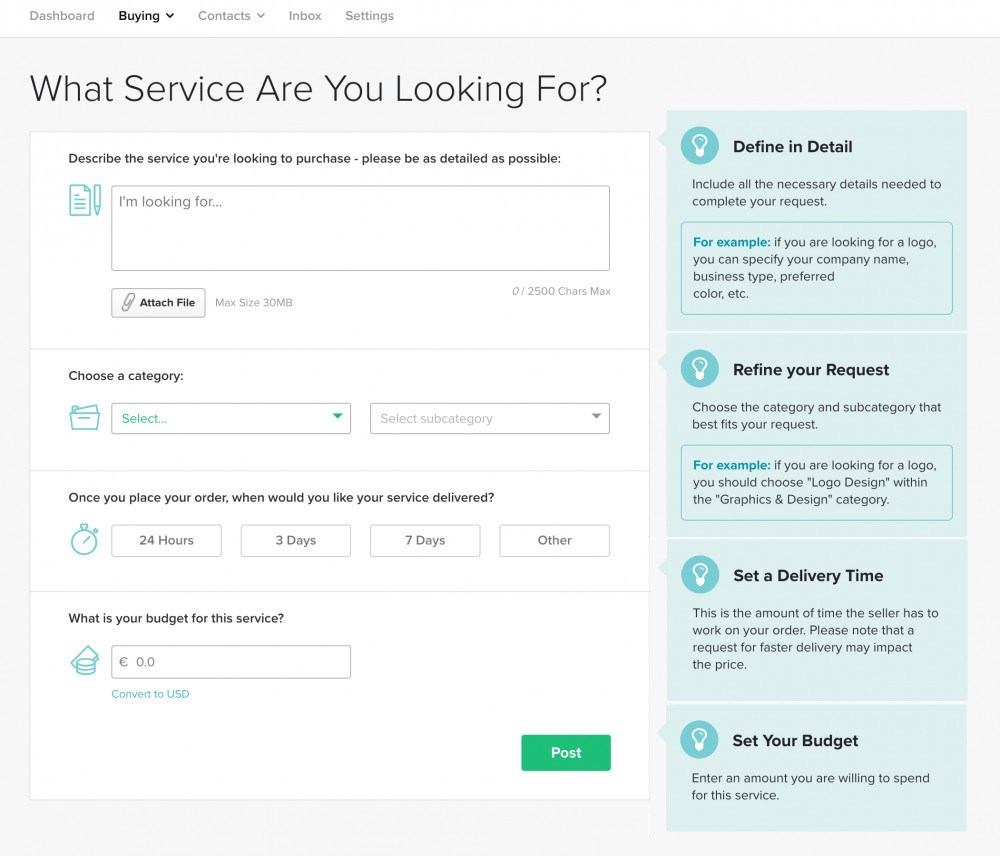 Start the Project. Pay after you approve the work.
Payment is released to the freelancer once you're pleased and approve the work you get.
When it comes to paying for the services, Fiverr offers a variety of secure payment methods, including PayPal and major credit cards. The best part is that every payment you make on a service is held in escrow by Fiverr until your tasks are completed to your satisfaction. That is, payment is released to the seller only after you approve of the task done and delivered.
---
The Pros and Cons of Buying Services on Fiverr
Purchasing the services of experts for your tasks on Fiverr can go a long way in helping you start and grow your business quickly and affordably. However, just like every platform, you may encounter a few mishaps along the way. Outlined below are some merits and demerits of buying on Fiverr.
Pros of Buying on Fiverr
✓ You can find outstanding experts and skilled workers for your numerous tasks, thereby getting all your tasks done within a short time, and growing your business faster.
✓ You can find and hire people who have skills that you do not have, at an affordable rate. Although the service charge could add up to quite a lot when you order multiple gigs (there's $2 service charge on every purchased service below $40 or 5% on services above $40), but compared to hiring a long-term in-house staff, the running cost of outsourcing your work is very low.
✓ Each contract with a freelancer is on a per order basis, thereby providing flexibility in finding the right freelancer to work with. That is, unlike the contract-boundary when you hire a full-time employee, on Fiverr, you can easily decide to continue working with the same freelancer after the first order, or try another freelancer. This ultimately reduces your business running costs, and you get better quality work done.
✓ Your payment is safe, as it is held in escrow until you approve the service delivered.
Cons of Buying on Fiverr
You could hire sellers that are not qualified for your task or have a punctuality issue, especially if you don't carefully select a seller or if you just don't connect. I'll suggest you include some spare time and budget to your project at the beginning stage, to test 2-3 sellers with small gigs, and then continue with the one you like most and that can meet the deadline.
You may have to pay for extra revisions, after utilizing the free revisions offered by the seller.
You cannot communicate with your seller outside Fiverr. Thus, communication is limited to typing words, which is not quite efficient compared to conversational communication.
How Fiverr Can Help You Make Money as a Freelancer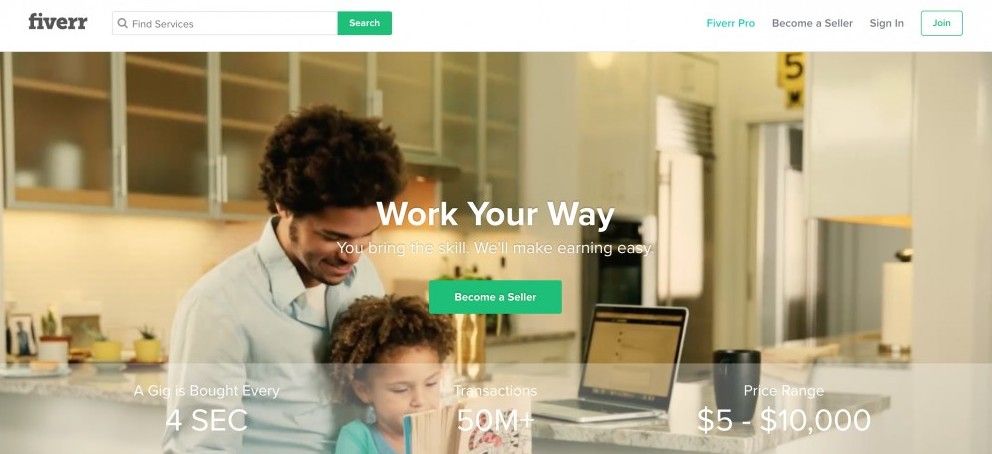 Working as a freelancer is one of the ways to work remotely, which requires little investment in terms of time and money. You can do it as a part-time gig during your off-hours, and you don't have to pay any registration fee to work on a platform like Fiverr.
All you have to do is set-up a virtual office on the platform and start earning.
Unlike when you work as a traditional solo freelancer and have to worry about building a good local network, and depend on word of mouth to get freelance projects, on Fiverr you don't have to worry about searching for clients, as the platform has millions of buyers looking to hire.
You can sell your skills for as little as $5 or as high as $10 000, depending on the task.
That being said, although Fiverr can help you make money online, don't expect to make much money right away. Similar to many businesses, you need time to develop it, learn from the process before starting to make a profit stably.
Therefore, I suggest you use Fiverr as a side-gig at first before you quit your day job and work as a Fiverr freelancer full time. When you can earn a professional reputation and start making enough money steadily, it is the time when you should switch.
To become a successful Fiverr freelancer, you must create a professional profile, set up a competitive gig, offer quality service, and provide great customer service. That will not only encourage buyers to leave you 5-star ratings and outstanding feedback, but also attract the attention of prospective buyers.
---
Selling On Fiverr: The Process
Signing up on Fiverr as a seller is free of charge. The process is fast and easy, and takes as little as 10 minutes.
After you clicked on the "Become a Seller" at the right top corner of the Fiverr homepage, it will lead you to the sign-up page, with step by step guide, and even with a video to walk you through each key area during the sign up to make sure you can be successful.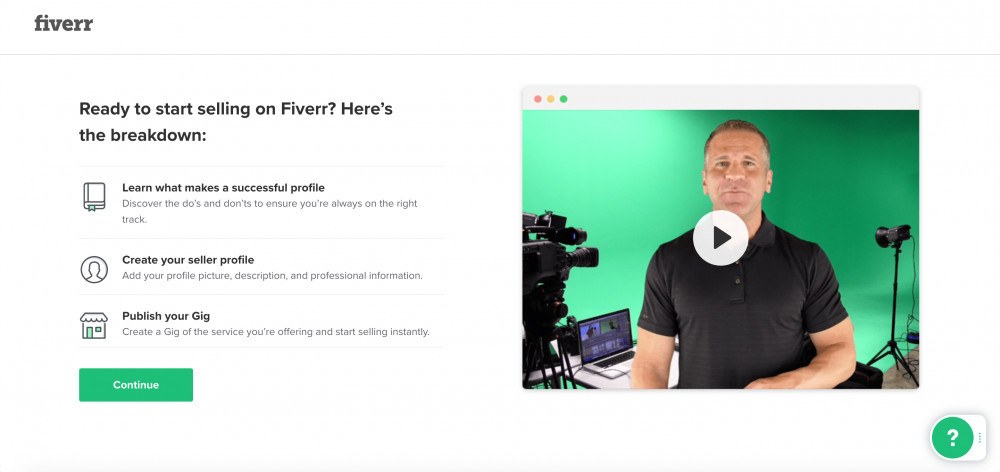 After signing up, the next step is to create one or more gigs to explain the services you offer. A Fiverr gig is like your services advertisement page through which buyers find you when they search for a service.
A useful tip is to write a compelling gig description, use an attractive gig image, and set a competitive rate. You can also browse other seller's gig description to get relevant ideas, as well as think about a unique service you can offer exclusively that businesses would be interested in buying.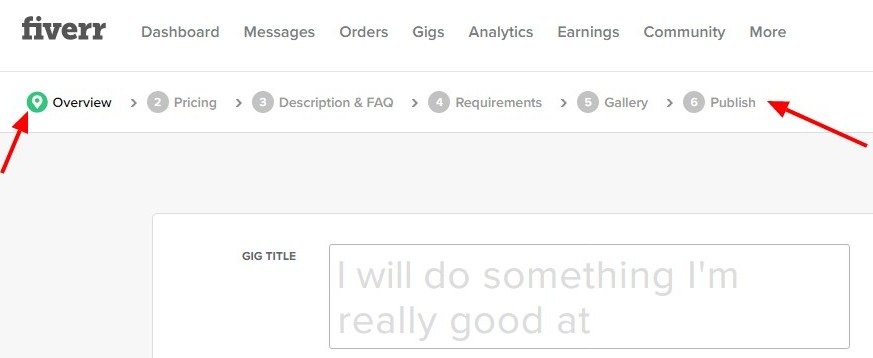 When a buyer places an order, the payments on each order are held in escrow until you finish as agreed and on time, and the buyer approves your work. Then, you can withdraw your funds after two weeks of job completion (approval).
Although Fiverr charges a 20% commission on every completed task, you don't need to give anything before you get the paycheck.
Therefore, it is a completely zero investment platform, where you can start working remotely and earning your second income.