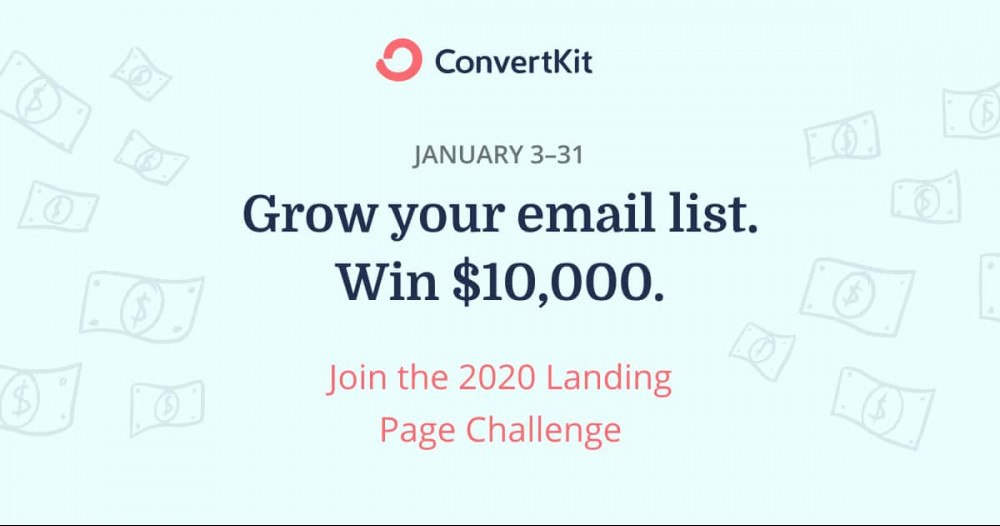 Please note this post contains affiliate links, which means I'll earn a small commission if you purchase through my link at no extra cost to you. Please see full privacy policy here.
Now it is in another new decade, 2020. How big are you dreaming this year?
What are you building to serve your audience? What products or services are on your horizon? What ideas are you ready to make a reality?
Did you ever think those ideas could help you win $10,000?
Now they can.
ConvertKit's 2020 Landing Page Challenge
ConvertKit wants to celebrate your big dreams and help you kickstart your next idea with this challenge geared around landing pages.
I love landing pages.
They're a simple and beautiful way to promote products, webinars, your newsletters…the possibilities are endless. And they're so easy to set up.
In just 10 minutes you can have a fully designed and branded landing page live and ready to share with the world.
With that in mind, ConvertKit is hosting this challenge to help you get your next idea up and running with a landing page to gain as many new subscribers as you possibly can.
For one creator who can set up a landing page that grows their list by over 100 subscribers during the challenge, ConvertKit is giving away a grand prize of:
$10,000
A free year of ConvertKit
And a year of coaching with one of their account managers
There's also more great prizes for anyone who doesn't quite reach that level too!
And along the way, ConvertKit will be hosting five live trainings to help you with everything from creating your landing page offer, to figuring out how to share your landing page, to tactics to make that email list grow.
If you've never created a landing page or are interested in learning how to optimize a landing page and the process of selling through a landing page, ConvertKit is going to host 5 live trainings throughout the challenge to help you out. Here are the titles of those trainings:
The #1 Strategy Top Creators Use to Create Landing Pages That Convert
How to Create Your Landing Page and Grow Your Email List in 24 Hours
25 Ways to Share Your Landing Page and Grow Your List
How to Double Your Email List This Week
How to Sell to Your Email List (Without Being Salesy)
The challenge will be ended by 31st January.
Take the challenge now before it is too late. Click the link or the image below to join the challenge today !